John Christopher Depp II's rise to fame
If anybody had looked into the future of that young boy dropping out of school and playing guitars with expectations of becoming the best rock musician on the face of the earth, would they have seen half the man John Christopher Depp II was now? Johnny Depp had risen to fame riding on the coattails of his exceptional performance in 21 Jump Street, not the movie, but rather a very popular American television drama airing around the 1980s. Even from that position, Johnny Depp took a total of hardly two decades to establish himself as one of the most sought-after actors of Hollywood, which was quite easy once Hollywood acknowledged the fact that in totality, allJohnny Depp movies had not only done wonders within the US but had grossedover $8 billion box office earnings worldwide.A few years down the line, and everyone is in love with Johnny Depp's acting, and well, why wouldn't they be? It is not every day that one sees the same manstarring as both the intriguing American character of Alexander Pearce acting alongside Angelina Jolieas well as the gentle lead from Edward Scissorhands with literal razors for his hands, is it?
6. Alice in Wonderland
[adinserter block="1″]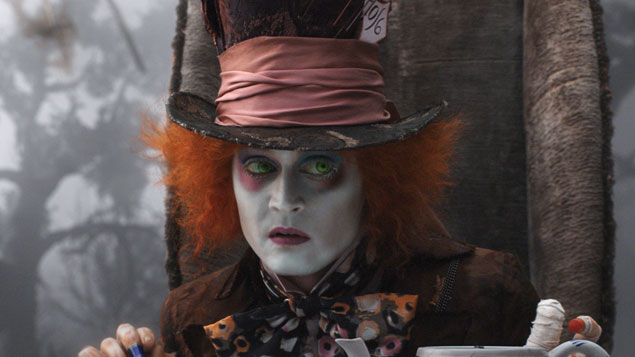 Finally, no mention of any list trying to single out the best Johnny Depp movies ever goes without the honorary mention of his legendary portrayal of the Mad Hatter in the 2010 adaptation of Alice in Wonderland alongside Mia Wasikowska. This famous movie had ranked second on the list of highest grossing movies of 2010 after earning a total of $1.025 billion in terms of box office revenue and had also won the Academy Awards for Best Art Direction, and Best Costume Design, the credits of the latter going quite partly to the sketch swaps between director Tim Burton and Johnny Depp himself. Demarcating the seventh-ever collaboration between Tim Burton and Johnny Depp, the story of Alice in Wonderland remains loosely inspired by the two novels written by Lewis Carrollabout the life of young Alice Kingsleighwhich turns upside down after slipping into Wonderland.
IMDb 6.5 / Release Date: 1997

Trailer / Director: Tim Burton
5. Charlie and the Chocolate Factory (2005)

Back again with a worldwide blockbuster collaboration with Tim Burton, 2005's Charlie and the Chocolate Factory ranks high among the best Johnny Depp movies which retells the story of the eponymous novel written by Roald Dahl back in 1964. Starring Johnny Depp and Freddie Highmore in the famous roles of Willy Wonka and Charlie Bucket,Charlie and the Chocolate Factory revolves around the life of Charlie and four other young children, who are tested in their moral values by Willy Wonka who pretends to take all the children for a trip through his chocolate factory, while secretly plotting to hand over the sovereignty over his factory to the best suited child in expense of a grave condition. Charlie and the Chocolate Factory was an immense box office hit after it earned a grandiose total of $475 million with respect to its $150 million budget.
IMDb 6.6 / Release Date: 2005

Trailer / Director: Tim Burton
4. Sweeney Todd: The Demon Barber of Fleet Street (2007)
[adinserter block="1″]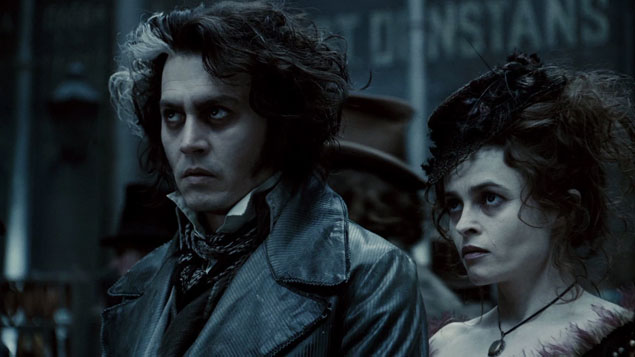 Another Tim Burton collaboration which succeeds in making the list of top-ranking Johnny Depp movies is Sweeney Todd: The Demon Barber of Fleet Street which retells the melodramatic story of a Victorian era barber played by Johnny Depp who gets a kick out of murdering his customers with a straight razor, while his accomplice Mrs. Lovett, portrayed by Helena Bonham Carter bakes them into pies as both of them feed a long-time grudge against a common enemy.Both Helena and Johnny had received an immense amount of critical acclaim for their wonderful portrayalof the lead characters befitting the original musical of 1979. Sweeney Todd also did not hesitate to provide for many Academy Award nominations for Depp and Carter, and a clear win for the 2007 Academy Award for Best Art Direction.
IMDb 7.4 / Release Date: 2007

Trailer / Director: Tim Burton
3. Finding Neverland (2004)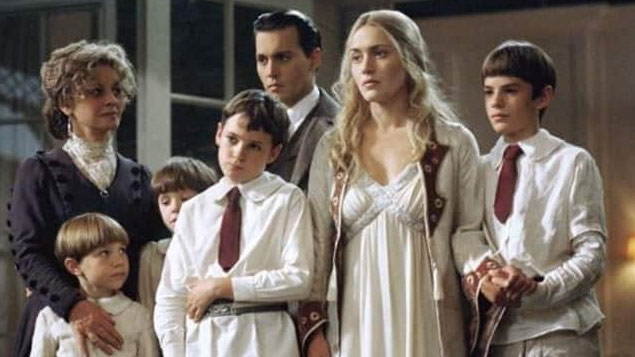 One worthy mention among the plethora of Johnny Depp movies goes to the Academy award winner biopic of Mr J. M. Barrie, the writer of the Peter Pan novels, in the 2004 fantasy drama of Finding Neverlandwhere Johnny Depp and Kate Winslet are featured in the opposing lead roles. The movie revolves around the real life amazing friendship between Sylvia Llewelyn Davies and four of her sons who would ultimately inspire Barrie to find the much-needed inspiration and write the beautiful fictional story of Peter Pan. The movie was subjected to much love and appreciation towards Johnny Depp's portrayal of J. M. Barrie, while it also received the Academy Award for Best Original Score. Finding Neverland ultimately went on to attain a box office revenue of $116.8 million which is a realbeauty when compared to its $25 million budget.
IMDb 7.7 / Release Date: 1997

Trailer / Director: Marc Forster
2. Edward Scissorhands (1990)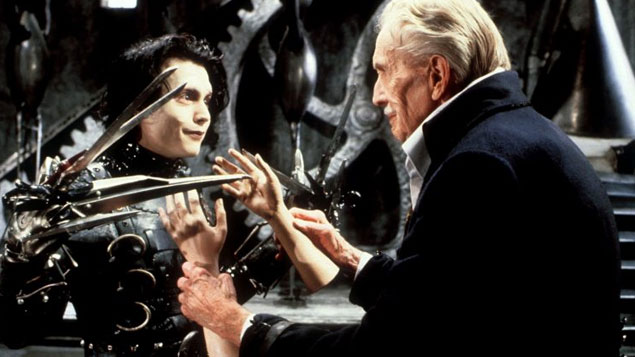 Tim Burton directing manyof the Johnny Depp movieswas something every avid fan back in the day looked forward to, but the one collaboration that surpassed all the rest is definitelyEdward Scissorhands, a dark fantasy romance film released back in 1990, which revolves around the story of an unexpected love blossoming between Johnny Depp's character, who's actually an artificial humanoid created by an inventor whose untimely death left Edward with literal scissors in place of hands, and the teenage daughter Kim of the suburban family which takes him in out of pity, played by Winona Ryder. Edward Scissorhands did indeed receive many Academy Award nominations, and even won the Hugo Award for Best Dramatic Presentation back in the day.
IMDb 7.3 / Release Date: 1990

Trailer / Director: Tim Burton
1. Pirates of the Caribbean: Curse of the Black Pearl
[adinserter block="1″]


The 2003 release of Pirates of the Caribbean: Curse of the Black Pearl, which brought to life some amazing characters who were loved by everyone, the young and the old alike, but there was no one so beloved as Captain Jack Sparrow – the hilarious and exceptionally cocky pirate of the English seas portrayed by none other than Johnny Depp himself. As far as Johnny Depp movies go, this unique tale about the life of pirates and English governors in the 18th century, which had paved the path for four new sequels to be written by Disney,did not disappoint, and earned the unexpected box office revenue of a whopping $654 million worldwide.
IMDb 6.6 / Release Date: 1997

Trailer / Director: Joachim Rønning, Espen Sandberg